Interactive Voice Response (IVR) is an automated phone system technology that allows incoming callers to access information via a voice response system of pre recorded messages without having to speak to an agent, as well as to utilize menu options via touch tone keypad selection or speech recognition to have their call routed to specific departments or specialists.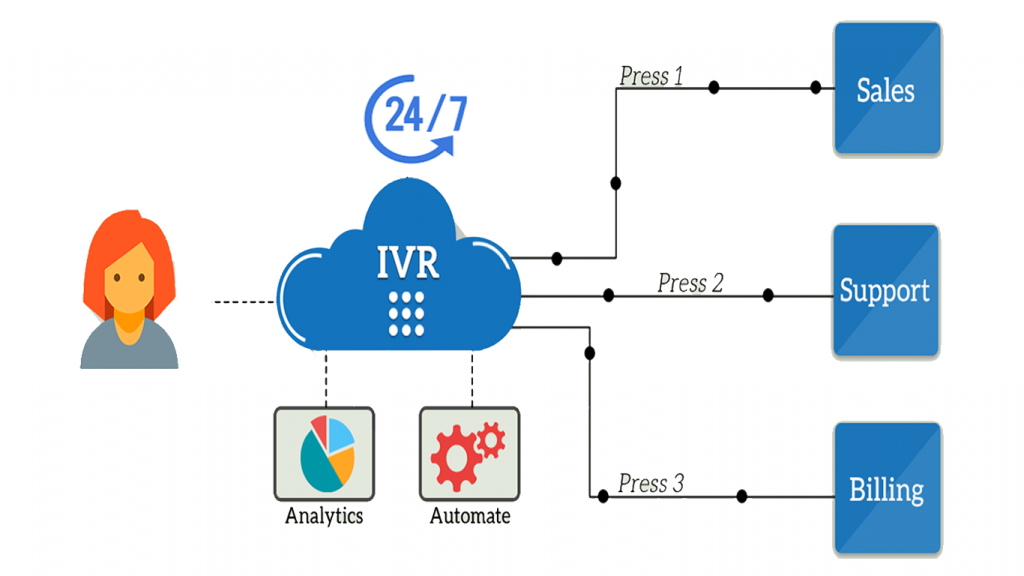 A well designed IVR software system can help increase customer satisfaction and improve contact center operations and KPIs. Particularly during times of high call volume, an effective interactive voice response system can help avoid hold time by helping customers find answers and perform simple tasks themselves. In cases where a customer needs or requests to speak with a person, ivr  Interactive Voice Response technology can help route calls quickly and seamlessly to the best call center agent to address their inquiry.
There are two primary components of IVRs that enable the computer to understand and process the caller's requests. One is voice recognition technology, and the other is called Dual-Tone Multi-Frequency signaling (or DTMF).
DTMF signaling occurs between the phone and the computer when callers use the keypad on their phone to select menu options. This touch-tone technology allows intelligent call routing to take place without a human operator.
IVR platforms with voice recognition capabilities enable what's called Directed Dialogue, which means callers can give verbal responses instead of using the keypad to navigate the menu. For example, an IVR menu might say, "For billing, press three or say 'billing.'"
Below is a list of the advantages you get when adopting IVR capabilities in your call center workflows:
Reduced Call Numbers
IVR software is a technology that allows customers to save time and resolve their problems faster than before. The less time they spend on the call, the more people your company can serve. Before a customer called a regular infoline and reached a general reception line, IVR now replaces it by introducing call routing. The customer call is instantly answered and directed to the requested department. Even if there is no suitable option for the customer to choose from the IVR menu, the caller can select to talk to agents.
Better Customer Service:
No business can thrive without customers. Therefore, having a good customer experience is imperative. Several studies report that 48% of customers prefer using the phone to resolve their issues.
Interactive Voice Response systems also make clients feel like they're better attended to. IVR systems ensure that any usual question a customer might have already has a quick response readily available. A good IVR flow provides informative and time-efficient responses, guiding customers through an intuitive menu right to the department that can best resolve their needs.
Ultimately, this means answering a call on the first ring, thereby reducing customer wait time and cutting call volume, and saving time for both the client and company. And because they're talking to the person who can solve their problems, there's a much better chance of fixing the problem on the first call.
Offering a Callback
During a high volume of incoming calls, IVR technology has a useful feature that offers callers a callback at a later time to avoid long waiting periods and to prevent worsening the customer service experience. The company agents will have less stress and will be able to fully assist the clients later. IVR software sends the callers' phone number and possibly preferred date and hour for a callback to agents to dial at a less busy time.
Unlimited Customer Access:
While office hours, holidays, and breaks dictate and limit employee availability, IVR systems are always at the customer's disposal. They can call your contact center and interact with your IVR systems at any time, even outside your business hours.
This means a customer can receive customer service whenever they need it. While the option of having a live representative is still essential for more complex support requests, an IVR system gives unlimited access to a basic level of customer service.
Create a Better Company Image
If you're a smaller company, you may not necessarily have the call volume that requires IVR technology, but it can still be a beneficial tool to have. An IVR creates the idea that your company is huge, as one receptionist couldn't possibly manage your call volume.
For bigger companies, these systems foster a professional image by maintaining consistency in customer service and call volume.
Reduce operational costs.
IVR systems will replace a receptionist or a customer service agent who answers calls and directs calls to agents. They are also very affordable, will increase efficiency and will reduce operational costs, so the ROI is huge.
Increased Productivity
Routing callers to the specific departments or staff members to address their specific needs means less time spent conferring with colleagues to find the right answer or transferring the caller until they get what they need. Time spent on hold or being routed from department to department is a major driver in customer dissatisfaction, and you want to avoid this as much as possible.
Call routing also enables contact center agents to prioritize the most urgent calls, increasing overall efficiency and first-call resolution rates.
With an IVR system, your company will be able to attend to a high volume of calls without long call wait times or stressed receptionists.
Error-Free
High call volumes tend to be a mental strain on call center agents, which can result in misrouted users in addition to long waiting times. This can severely impact your customer service experience. With the IVR system's automated routing, you greatly reduce the risk of mistakes in directing a customer to where they need to go
When your clients have a good customer experience, all good things will follow for your business. XonTel offers you very powerfull call center system with modern IVR technology. You can tailor your XonTel call center IVR system to your specific needs, use multi-level menus for more in-depth customer choice, and even customize routing behavior and how calls are sent to various groups in your contact center
To find out more information about XonTel call center system and IVR Systems, do not hesitate to contact us.